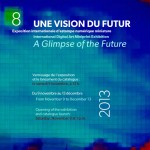 Theme: A Glimpse of the Future
Participating artists: Ajk Björn Piercc, Adrien Asselin, Edward Bateman, Berko, Derek Michael Besant, Aurélien Bonnetaud, Kateryna Bortsova, Lukas Bradacek, Katarina Cakova, Razvan-Constantin Caratanase, Micheline Couture, Lillianne Daigle, Richard  Doutre, Gracia Dubé, Élisabeth Dupond, Marta Dziomdziora, Paula Franzini, Marcel Gagnon, Denyse Gérin, Joanne Giroux, Louis Godbout, Hélène Goddyn, Olena Golub, Eugenia Gortchakova, John Graham, Inguna Gremzde, Alexandra Haeseker, Saeko Hanji, Sandra Herman, Florentia Ikonomidou, Lluis Ivern, Julianna Joos, Suzanne Joos, René Kempen, Snežana Kezele, Isao Kobayashi, Louise Lamirande, Doris Lamontagne, Johanne (Vovanne) Laurin, Marie-Paule Le Bohec-Macot, Denis Leclerc, Claire Lemay, Jocelyne Lusignan, Kinichi Maki, Eva Mayer, Valérie Mercier, Louise Mercure, Jake Morrison, Maureen Murphy, Joseph Muscat, Christian Noreau, Csaba Pál, Leonard Pedzialek, Henri Pouillon, Aura Evelina Radu, Maya Raunik Kirkov, Izabella Retkowska, Naïma Saadane, Claudia Salguero, Sédé, Hélène Séguin Gauthier, Tee Kho !( r-r.) mushtatov,Véronique Tremblay, Gilles Vallée, Jozina Marina Van Hees, Monika Wanyura-Kurosad, David Westrop
A Glimpse of the Future
According to fr.wikipedia, the designation "estampe numérique" (digital print) refers to works where the computer is the principal design tool, used to create a matrix of digital data. A digital printer, generally ink jet, is then used to print the matrix on various media.
Photography is the ultimate medium of instantaneity, of the present time. This is its strength and its weakness. It can neither capture the past nor the future. But a way presents itself for artists to evoke the future, to crystallize in imagery the wildest visions.  Image processing software now allows the imagination to become the image, by allowing us to transform a representation of reality, be it photographic or not. Time to get to work!
The current edition of the International Digital Art Miniprint Exhibition summons us to a challenge: "show" the future and share what would otherwise remain a mental image.
We can no longer ignore the enormous impact of new technologies on our lives, an impact that is growing exponentially. In the world of the arts as well, we are experiencing a major upheaval, more significant than that caused by the Industrial Revolution. Nothing escapes this vast whirlwind that encompasses all, like a black hole. Like a black hole? Not exactly, since light can sometimes break free of the murky depths to allow certain perceptive minds to catch a fleeting glimpse of what will be.
Cities, homes, work, transportation, leisure activities, eternal life, interstellar worlds, thought…all are subject to radical transformations. Everywhere there are scenarios constructed — some far-fetched, some realistic — some optimistic, some apocalyptic — with no other limit but those of our imagination.
How will future life be? It is impossible to know, and that is what makes it fascinating. We can imagine away and image away as we please.
May the artists pave the way!
— André Paquin, Curator