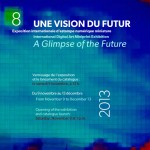 International Digital Miniprint Exhibition
A Glimpse of the Future
From November 9 to December 13
Curated by André Paquin, the eighth edition of the exhibition will feature artwork from Algeria, Belgium, Canada, Czech Republic, France, Germany, Greece, Hungary, Japan, Latvia, Macedonia, Netherlands, Poland, Romania, Serbia, Slovakia, Slovenia, Spain, Ukraine and the United States.
The theme, A Glimpse of the Future, has inspired nearly 70 artists. Three prizes and two honourable mentions were awarded by a panel of judges (three regional artists) to the artists whose work stands out because of its quality and originality.
1st Prize to Eugenia Gortchakova, Germany, for Network Wisdom CN;
2nd Prize (Prize Point Omega Design) to Véronique Tremblay, Canada, for Progression 1;
3rd Prize to Isao Kobayashi, Japan, for The Place where the Memory Returns No. 58-3;
Honourable mention I to Kinichi Maki, Japan, for Distortion in the Future II ;
Honourable mention II to Pál Csaba, Hungary, for Imagined Future_02
Also included in the gallery below are the work of:
Katerina Bortsova, Ukraine (sans titre);
Doris Lamontagne, Canada, Irreversible;
Gracia Dubé, Canada, Station 32;
Snežana Kezele, Serbia, He's Coming.
The complete list of artists, as well as the curator's text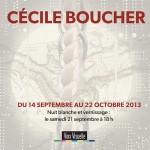 Cécile Boucher
From September 14 to October 22, 2013
To celebrate the opening of its new premises, le Centre d'artistes Voix Visuelle presents recent work by local artist Cécile Boucher, who also took part in many exhibitions in Canada and abroad. From September 14 to October 22, 2013, Antémémoire will occupy the new gallery.
Inspired by the theme of the quest for identity, the trained artistic printmaker is questioning human alienation, loss of control and anxiety against the context of the 21st century: computer fantasy, immediacy and proximity of communications.
Using photography in all its forms as a preferred medium, Boucher also integrates digital art to produce work revealing of a planet in disgrace. The artist proposes a reflection on the human being who, in a context of urgency, witnesses the breaking down of borders, realities and perceptions.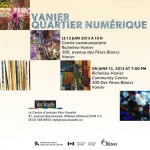 Vanier quartier numérique
From June 13 to December 13, 2013
Centre Richelieu-Vanier
Le Centre d'artistes Voix Visuelle is proud to present, on June 13, 2013, at Richelieu-Vanier Community Centre, its project entitled Vanier, quartier numérique. This is a project that disseminates digital artwork on a screen to raise public awareness of contemporary art. A continuity of the gallery, this new space/format is an atypical place to display artwork and contributes to the vitality of the visual arts in the National Capital Region. The artists whose artwork is part of the first phase of dissemination are Alex Leblanc, André Paquin, Cécile Boucher, Dominique Laurent, Doris Lamontagne, Frances Caswell-Routhier, Joan Rzadkiewicz, Joseph Muscat, Jules Villemaire, Lost Paradigm, Martine Gilbert, Patricia Pigeon, Paul Walty, Paula Franzini, Raymond Aubin, Louis Godbout, Claire Cloutier and Denis Leclaire. Information: Shahla Bahrami (613) 748-6954 or [email protected] Centre d'artistes Voix Visuelle would like to thank the Ontario Arts Council, Canadian Heritage and the City of Ottawa for their support.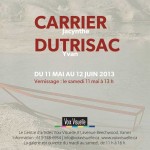 Jacynthe Carrier and Yvan Dutrisac
From May 11 to June 12, 2013
Two exhibitions that will change the way visitors are seeing things. One highlights a Quebec landscape while the other presents an Ontario landscape.
Procession, by Jacynthe Carrier, is a photographic series inspired by the paintings of Jean-Paul Lemieux. Statue-like characters are standing in inhospitable landscapes. Since the aesthetic code of traditional genres is alluded to, the presentation tries to show a different reality and to impact the act of seeing.
La nature regroupée par quatre, by Yvan Dutrisac, presents thematic groupings inspired by the symbolism of the number four: the four physical natures, the four elements, the four reigns. Pictograms on explicit landscapes cast doubt on their interpretation; nevertheless, the observer is not left hanging.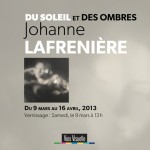 Du soleil et des ombres, by Johanne Lafrenière
March 9 to April 16, 2013
A silent animation and video excerpts showcases a return
to the essence of the image: the fragility of the contact between light and the surface which allows it to exist. In continuity with
the artist production, the project reflects her fascination for light and the visual phenomena surrounding us; these create, build
and deconstruct imagery.
Thus, shadow and light seem to translate the different mindscapes of a young girl on a swing, lost in her thoughts. The exhibition allows us to perceive the metaphorical scope of light, movement and time.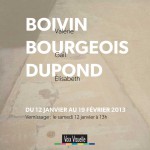 Valérie Boivin, Gail Bourgeois et Elizabeth Dupond
Du 12 janvier au 19 février 2013
With Le coeur net, a series of 19 digital prints, Boivin plays with the ambiguity of human relationships. Her prints combine uneasiness and joy and explore different feelings such as solitude, comfort and play. They present the human being like a beast prisoner of itself.
Dupond invites the viewer to take a second look at the objects surrounding him. Photos inspired by unusual details are worked on with various techniques and material, prompting the observer to add his own mental imagery and to make the legend his own.
Bourgeois works with the material potential to create an indefinite pictorial space. By taking away the context, she places the observer on unknown territory. The artwork is thus difficult to comprehend since it oscillates between concept and representation.