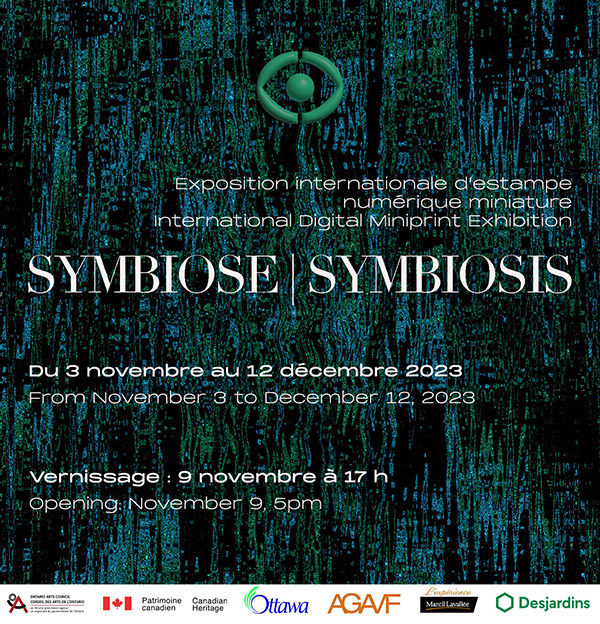 From November 3 to December 12, 2023, the Centre d'artistes Voix Visuelle will host the 18th edition of its International Digital Miniprint Exhibition, curated this year by artist Doris Lamontagne.
The opening of the exhibit will be held on Thursday, November 9, at 5 p.m.
Presented at the gallery as well as in virtual mode on its website, the exhibition entitled Symbiosis highlights 82 works by 48 artists from the following countries: Argentina, Belgium, Canada, France, Greece, Hungary, Japan, Netherlands, Poland, Portugal, South Africa, and Ukraine.
Symbiosis
Since the beginning of time, artists have drawn inspiration from nature. From prehistoric works found in the Lascaux caves to medieval bestiaries, from Renaissance still life to modern times, non-human species have been represented in artistic works and by different means.
This desire to evoke other species in images is driven by different intentions: whether purely aesthetic, magical, religious, or scientific, these representations lead us today to examine the impact of human beings on the planet as well as its relationship with the microbial, fungal, plant and animal agents that live there.
If the thought of Descartes separated nature from humanity, the sciences of our century highlight the interdependence between different organisms including humans. The interspecies entanglements that give shape to our world are revealed to us. By understanding that humans are part of an interconnected planetary system, we can describe the various forms of relationships between the organisms of our biosphere. By revealing these entanglements that give shape to our world we can recognize our place in nature and thus put an end to our anthropocentric push towards the extinction of species and consequently that of humanity.
Beyond the Anthropocene, what will nature look like? What can we expect from a planetary system that has regained its vital balance? It's up to you to imagine it…
Doris Lamontagne, curator
Participating artists:
A. Dworzak-Subocz, Poland | A. Canau, Portugal | C. Reyes, Belgium
C. Garcia-Cournoyer, Canada | C. Dahan, Canada | C. Diedericks, South Africa
C. Bezirgiannidou, Greece | C. Lemay, Canada | D. Robinson, Canada | D. Leclerc, Canada | D. Collet, Canada | D. Wimalaratne, Canada | F. Gauvry, Argentina
F. Ikonomidou, Greece | F. Caswell-Routhier, Canada | G. Vallée, Canada | H. Pouillon,
Belgium | I. Kobayashi, Japan | J-P. Brazs, France | J. Aird-Bélanger, Canada | J. Hénen, Canada | J. Graham, Canada | J. Muscat, Canada | K. Seshie, Canada | L. Finet, Canada
L. Daigle, Canada | M. Benhamou, France | M. Brunet, Canada | M. Périat, Canada
M. Des Aulniers, Canada | M. Lapointe, Canada | M. Handfield, Canada | N L. Legris, Canada | N. Ross, Canada | O. Golub, Ukraine | O. Thiland, Canada | P. Csaba, Hungary
P. Walty, Canada | P. Cavale, Canada | R. Aubin, Canada | R. Jodoin, Canada
R. Kempen, Netherlands | R. Chevalier, Canada | R. Robesco, Canada | S. Mandla, Canada | T. Ueda, Japan | V. Tytor, Canada | W. Pinet, Canada
Le Centre d'artistes Voix Visuelle would like to thank the Ontario Arts Council, Canadian Heritage, the City of Ottawa, AGAVF, Marcil Lavallée and Desjardins Ontario for their support.