June 2023
Curator: Manon Condamin
Voix Jeunes Talents | Génération Visuelle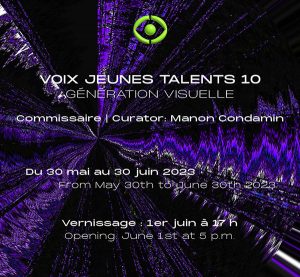 From May 30th to June 30th, 2023, the Centre d'artistes Voix Visuelle hosted the "Voix Jeunes Talents" exhibition, 10th edition.
Digital art is a recent discipline that includes all creations based exclusively or inclusively on the use of digital tools.
This art continues to evolve in space and time:
With a new surface, a changing perception and modern tools, digital works today are multiple and very varied. Their appearance underlines new reflections on the identity of a work: passing from a material nature to immaterial (and vice versa) and from a single character to multiple… Ultimately, this discipline disrupts the codes of traditional art.
On the other hand, this new language — digital —- is easily tamed by the new generations cradled to the rhythm of technological advances. These young artists are the carriers and protagonists of this recent artistic discipline. It is easy for them to give free expression to their imagination in a constantly evolving field, allowing them to push back the limits of creation.
The opening of the exhibition took place on Thursday, June 1st, 2023 at 5 p.m. at the Centre d'artistes Voix Visuelle. In order to respect health measures and to avoid crowds, those who wished to attend the opening had to register here, where 1 hour visit slots could be reserved.
Curator: Manon Condamin
The Centre d'artistes Voix Visuelle would like to thank the Ontario Arts Council, Canadian Heritage, the City of Ottawa, Caisse Desjardins, AGAVF and Marcil Lavallée for their support.
Participating Artists :
G. Arbuthnot | S. Baylor | A. Bergbusch | A. Bidal | A. Blundon | G. Bouchereau
A. Bourque | C. Charette | J. Charron | Chauve | D. Cornel | G. Dawe | E. Desjardins
L. Douchant | Emile | S. Eclou Johnson | D. Elas | A. Fathi Fazl | C. Freire
C. Garcia-Cournoyer | M. Gilbert | M. Glaude | H. Gray | A. Hoskyn | V. Houle | R. Kaddir
A. Kuelz | M. Lachapelle | E. Laeer | E. Laliberté | C. Lapoujade | O. Lascelle
E. Levesque | E. Levesque | E. Martin | Martina | M. Lewis Milan | C. Melki
A. Morency | A. Morrisey-Robichaud | E. Prévost | P. Pribylovsky | M. Provençal
A. Prud'homme | J. Roussel | J. Saccoh | R. Shams | S. Shragge | P. Sirois | Z. Sirois
M. Skabar | C. St-Cyr | M. Thoer | D. Truong | M. Turmel | A. Vaillancourt | A. Williams
L. Williams | Ydo
Avril-mai 2023
Thierry du Bois
L'Édification de la lumière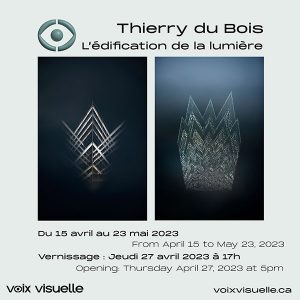 From April 15 to May 23, 2023, the Centre d'artistes Voix Visuelle hosted the exhibition L'Édification de la lumière (Edification of the light), by Thierry du Bois. The opening of the exhibit was Thursday, April 27, 2023, at 5 p.m.
Two and a half centuries after the end of the Middle Ages, the Age of Enlightenment began this passage from obscurantism to an era of knowledge. But what about our knowledge of light, the one that floods urban nights and illuminates today's castles? What discourse can we draw from the illumination of office towers? Prestige or vestiges in the making?
Thierry du Bois' field of exploration is inspired by the language of light expressed by buildings in the absence of their occupants. A language that the camera lens reveals as if it were a form of Morse code, short or prolonged lines of light, whose meaning must be deciphered through its undeniable plasticity. This discourse also opens the door to extra-pictorial documentary research that links images to the energy and social issues of buildings.
Through a refined plastic research that makes the very structure of the buildings disappear, the artist wishes to reveal this construction of light as a subject. A subject that is not enlightened, but illuminating, producing a discourse whose scope we do not always measure, and which disappears behind its obvious character: the buildings light up the cities at night. However, beyond this reassuring aspect of the light, the way in which the luminous flux is organized through multiple interspersed individual sources, which are superimposed without touching each other, produces a visual code imbued with mystery, a sometimes more disturbing language than comforting, since it induces separation and imposes hierarchy. Is this layering of lines and luminous points a metaphor for the pixelation of the social? So, what is hiding behind this debauchery of lumens in the absence of humans?
Born in 1984 in Belgium, Thierry du Bois began an artistic career after working as a freelance press photographer in Europe. Inspired by conceptual art, surrealism and dadaism, he photographs everyday objects, playing on the loss of reference points and scale to create another reality. His work questions the environmental impact of human production and new technologies. His projects have been exhibited and awarded several times in Canada, including the one presented here, which won a grant from the Canada Council for the Arts in 2019.
Le Centre d'artistes Voix Visuelle would like to thank the Ontario Arts Council, Canadian Heritage, the City of Ottawa, AGAVF, and Marcil Lavallée for their support.
January 2023
Sylvie Readman and Denis Rioux
Porosités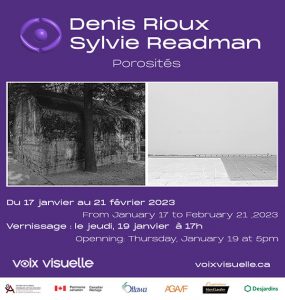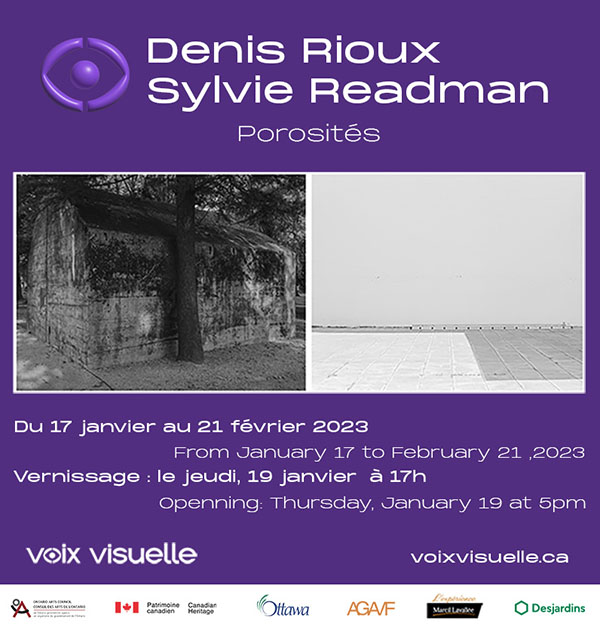 From January 17 to February 21, 2023, Le Centre d'artistes Voix Visuelle hosted the exhibition Porosities, by the artists Sylvie Readman and Denis Rioux.
The opening of the exhibit was Thursday, January 19, 2023, at 5 p.m.
Porosities was born of the meeting of two artists who, each in their own way, are interested in materiality, space, and light as primal conditions of photographic experience. Conjoining their voices, this project aims to relate their reflective territories and to create points of contact from which the images allow themselves to be permeated by a seemingly analog spirit of openness and balance between what is given to see and to think.
Sylvie Readman's contribution revisits and updates the classic pictorial theme of vanitas, in the context of which photographic elements make up a reflective fable. Made up of evanescent landscapes, of memorials or funerary spaces, and references to long temporal cycles, this fable, haunted by the imaginary of the camera obscura, conjures up a set of open meditations on the passage of time, on the finitude of human existence, and on the complexity of our relationship to nature.
Denis Rioux explores the photographic as a distinct form of appropriation, along with the nature of the experience it involves. Is works are an operator that fosters thinking about space, the visible, and materiality, outside of what enables the naming of things. They give an account of the primal, tautological experience of the appearing in light, highlighting the contexture of objects in favor of their complex and entropic materiality.
Le Centre d'artistes Voix Visuelle would like to thank the Ontario Arts Council, Canadian Heritage, the City of Ottawa, AGAVF, Marcil Lavallée, and the Caisse Desjardins Ontario for their support.