This call to artists is no longer current.
The call for submissions is in French only
Le Centre d'artistes Voix Visuelle invite les artistes professionnels à soumettre une proposition d'exposition en art actuel pour l'année de programmation 2019-2020.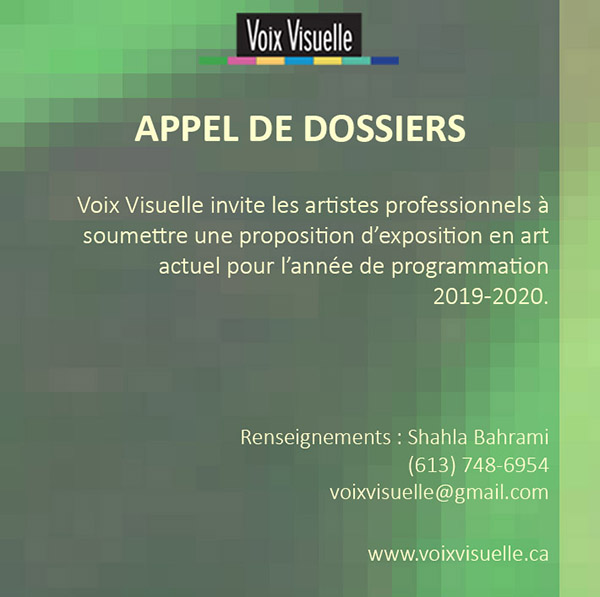 Date de tombée : Dimanche 30 septembre 2018
Renseignements : Shahla Bahrami
(613) 748-6954
voixvisuelle [arobas] gmail [point] com
Les demandes doivent comprendre :
Curriculum vitae (au plus 3 pages)
Démarche artistique
Projet d'exposition
Toute exigence spéciale pour l'installation
Liste détaillée de la documentation visuelle
Les documents doivent être en format pdf ou doc
20 images numériques ou 10 minutes maximum de documentation vidéo
Les images numériques doivent être :
 En format JPEG
 compatibles PC
 Ne dépassant pas 1024 x 768 pixels
 De mode couleur RVB, RVB ou gamme de gris
 Chaque fichier d'image doit avoir un numéro, le nom de l'artiste et le titre de l'œuvre. Exemple : 01-Artiste-Titre
Toute présentation de dossier doit être rédigée en français et entièrement soumise sur CD ou DVD.
Inclure une enveloppe de retour pré-affranchie si vous souhaitez qu'on vous retourne votre CD OU DVD.
Veuillez faire parvenir votre demande à :
Voix Visuelle
262, chemin Montréal
B.P. 79023, Vanier RO
Ottawa, Ontario
CANADA K1L 1A1