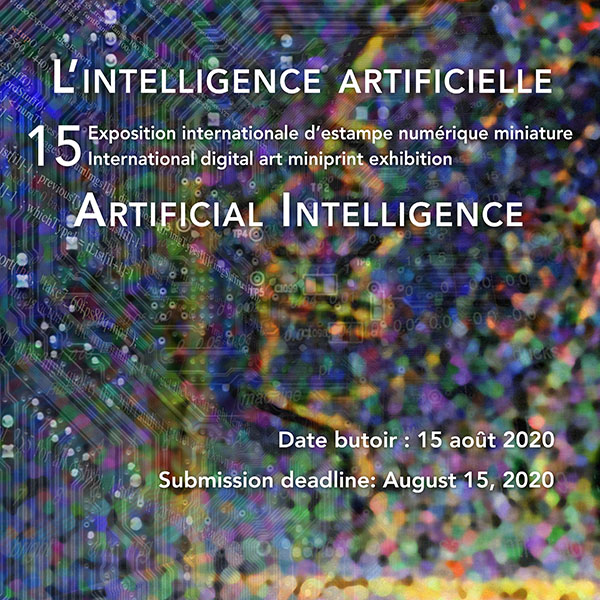 Due to the COVID-19 pandemic and health issues, and following the guidelines from the City of Ottawa, the exhibition will be online only, on this website, in November 2020.
Participating artists: J. Aird-Bélanger, Canada | A. Asselin, Canada | R. Aubin, Canada
M. Barti, Hungary | J. Bertrand, Canada | B. Bogart, Canada | C. Boucher, Canada
P. Csaba, Hungary | R. Chevalier, Canada | C. Cooper, Canada | L. Daigle, Canada
C. Dallaire, Canada | M. Des Aulniers, Canada | A. Dworzak-Subocz, Poland
L. Finet, Canada | P. Franzini, Canada | C. Gendron, Canada | D. Gérin, Canada
V. Goddard, Canada | O. Golub, Ukraine | F. Ikonomidou, Greece | R. Kempen,
The Netherlands | I. Kobayashi, Japan | D. Krasi, Canada | D. Lamontagne, Canada
M. Le Bohec, France | D. Leclerc, Canada | M. Manu, India | M. Márquez, Canada
E. Montenegro, Canada | J. Muscat, Canada | A. Paquin, Canada | M. Périat, Canada
O. Petca, Romania | Y. Porlier, Canada | H. Pouillon, Belgium | R. Robesco, Canada
N. Ross, Canada | S. Rossen, Bulgaria | S. Swinimer, Canada | V. Tytor, Canada
G. Vallée, Canada | J. M. Van Hees, The Netherlands | P. Walty, Canada
Theme: Artificial Intelligence
Artificial intelligence has become part of our lives. It allows us to give voice commands, to secure the access to our devices thanks to facial recognition and to browse targeted content on the internet. In an unfamiliar city, we can go from point A to point B and park our vehicle easily with driver assistance functions. In the fields of medicine and law, the availability of countless data banks ensures that more informed decisions are made.
Even in arts and music, composition can be computer led or assisted.
As part of the 15th International Digital Miniprint Exhibition, artists are invited to reflect on the issues facing us because of artificial intelligence: ethical questions, privacy protection, accountability, existential threat. Through artwork that will question the present and the future artificial intelligence, concerns, fantasies and hope will be expressed.
Katy Le Van, curator
Le Centre d'artistes Voix Visuelle would like to thank the Ontario Arts Council, Canadian Heritage, the City of Ottawa, AGAVF, Marcil Lavallée and the Caisse Desjardins Rideau-Vision d'Ottawa for their support.