April 6 until May 14, 2019
Jérôme Bertrand
ILL
Opening: Thursday, April 11, 2019, at 5 p.m.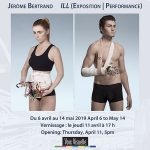 This exhibition of Jérôme Bertrand was accompanied by a performance on the night of the opening.
The transhumanist movement from the 1980s inspired this photographic series which addresses the cult of technology and the myth of human improvement. On the photos, technological implants treat individuals depicted in empty, unemotional space. The artist gives us an insight on his vision of tomorrow's man, a superman for whom seeking performance allows him to come in contact with technological device, and who could be, potentially, eternally broken.
The Centre d'artistes Voix Visuelle would like to thank the Ontario Arts Council, Canadian Heritage and the City of Ottawa for their support.