From November 7 to December 15, 2009
International Digital Miniprint Exhibition 4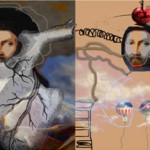 For a fourth year in a row, the Centre d'artistes Voix Visuelle is pleased to present the anticipated edition of the International Digital Miniprint Exhibition, in Ottawa. The public is invited to discover the intimate and intense setting created by small scale, digital images, through the talent and perspicacity of twenty select artists. Curated by Cécile Boucher, three prizes were awarded by an independent jury: First prize to Thérèse Guy, from Québec, for Les jumeaux, Second prize to Raymond Aubin, from Gatineau, for Les montagnes sacrées, Shanghai nos. 1 and 2, and Third prize to Élizabeth Dupond, from Montréal, for Road Movie 3 and 6. The exhibition will be held from November 7 to December 15, 2009 at the Centre d'artistes Voix Visuelle located at 81 Beechwood Avenue, in Vanier.
From September 16 to October 20, 2009
Marie-Jeanne Musiol
La fôret radieuse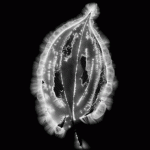 The Centre d'artistes Voix Visuelle presents an exhibition of Marie-Jeanne Musiol's ongoing work on plants, La fôret radieuse, from September 16th to October 20th. La forêt radieuse makes a short synthesis of several series in which the artist continues to elaborate "energy" herbaria with electromagnetic photography. While still capturing the light fields around plants, Marie-Jeanne Musiol now delves inside the zones of light to extract  mirror-images of the cosmos. She has also recorded on video several itineraries in the  light fields of leaves to reveal their complex beauty. The artist's research in the field of electromagnetic frequencies has been the subject of several recent exhibitions in Europe and in Canada.