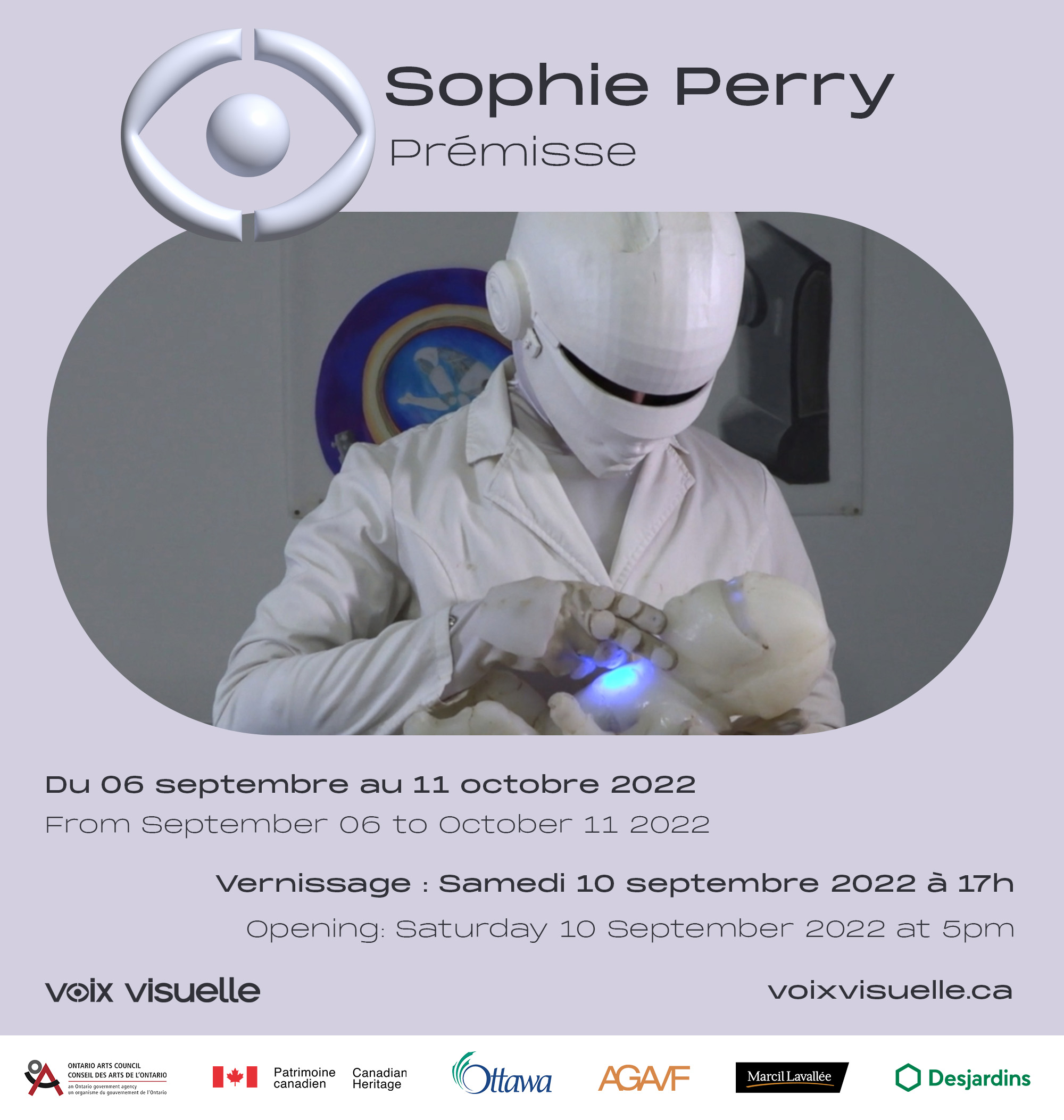 Sophie Perry – Prémisse (Premise)
From September 6 to October 11 2022, the Centre d'artistes Voix Visuelle will host the exhibition Prémisse (Premise), by Sophie Perry.
Sophie Perry trained in contortion at the Centre Régional des Arts du Cirque de Lomme, in France, then studied at the École Supérieur d'Art de Tourcoing, where she obtained her DNAP in 2016. Back in Quebec, she completed her bachelor's degree in visual and media arts, teaching profile at UQAM in 2019. In addition to teaching in several Montreal schools, she exhibited at the Center des arts de Chicoutimi in 2020, at the Atoll center, Victoriaville in 2022 and has participated in several collaborative projects presented in France and Quebec.

Prémisse deals with the relationship between humans and cyber-machines inspired by pop culture rather than taking stock of digital technology, extrapolating to the point of absurdity the representations that we make of technological tools, like a magnifying mirror of our behaviours towards them.
Playing on popular representations of artificial intelligence, especially those explored in Hollywood movies, Prémisse questions with humor our beliefs about technology; are we not too inclined to lend these machines a form of intentionality close to our own?

The opening of the exhibit is scheduled for Saturday, September 10, 2022 at 5 p.m., but we are still monitoring the COVID situation carefully. In case of changes, more details will follow.
Located at 67 Beechwood Avenue (2nd floor), in Vanier, the Centre d'artistes Voix Visuelle is open from 11 a.m. to 4 p.m., Tuesday to Saturday.
Le Centre d'artistes Voix Visuelle would like to thank the Ontario Arts Council, Canadian Heritage, the City of Ottawa, AGAVF, Marcil Lavallée and Caisse Desjardins Ontario for their support.