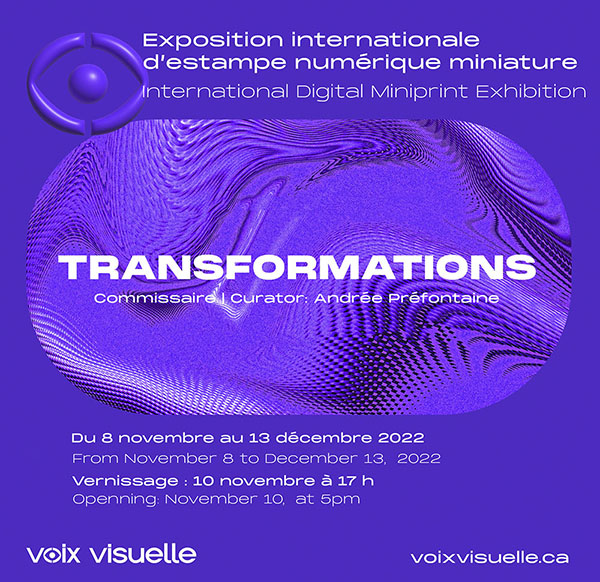 From November 8 to December 13, 2022, the Centre d'artistes Voix Visuelle will host the 17th edition of its International Digital Miniprint Exhibition, curated this year by artist Andrée Préfontaine.
Presented at the gallery as well as on social media, the exhibition entitled Transformations highlights 77 works by 51 artists from the following countries: Canada, Portugal, Hungary, Romania, Poland, Latvia, Japan, Greece, Netherlands, Belgium and North Macedonia.
Since always, everything is in perpetual change: the cycle of the seasons, our bodies, etc., in fact, everything reacts to time, to the environment… Everything evolves, changes, according to a variable speed. We are surrounded by genetically modified organisms (GMOs) and our genome is now known and manipulated.
More than ever, our relationship with space is also changing. Influenced by technology, since the advent of digital, work environments are adapting to a new reality and migrating to virtual space. The same is true with our interpersonal relationships.
Even our relationship to time changes over the years! But where is the border between the ephemeral and the perpetual? What about predictable cyclical changes and those that occur without warning? Are all these transformations desirable or inevitable?
Whether it is the result of an action of exogenous (external) forces or through endogenous (internal) forces, wouldn't the transformation be a characteristic of the living and of the importance of the dynamism of the subject/environment?
Cash prizes will be awarded to the artists of the deserving works. The winners will be announced on December 14 on social media and the Voix Visuelle website.
Participating artists: J. Aird-Bélanger, Canada | A. Canau, Portugal | F. Caswell-Routhier,
Canada | J. Charbonneau, Canada | R. Chevalier, Canada | D. Collet, Canada
P. Csaba, Hungary | C. Dahan, Canada | S. Daigle, Canada | L. Daigle, Canada
M. Des Aulniers, Canada | K. Dimtch, Canada | R. Dragos, Romania | A. Dworzak-Subocz, Poland | B. Elinore, Canada | L. Finet, Canada | C. Garcia Cournoyer. Canada
D. Gérin, Canada | J. Graham, Canada | I. Gremzde, Latvia | M. Grimard, Canada
M. Handfield, Canada | S. Hanji, Japan | F. Ikonomidou, Greece | R. Kempen, the Netherlands | I. Kobayashi, Japan | J. Lachapelle, Canada | M. Lapointe, Canada
D. Leclerc, Canada | E. Léger, Canada | C. Lemay, Canada | S. Mandla, Canada
S. Marchetta, Canada | M. Márquez, Canada | J. Muscat, Canada | G. Noel, Canada
M. Périat, Canada | H. Pouillon, Belgium | M. Raunik Kirkov, North Macedonia
D. Robinson, Canada | S. Roy, Canada | N. Shukralla, Canada | L. St-Jacques,
Canada | D. Starling, Canada | S. Swinimer, Canada | M. Tremblay-Gillon, Canada
V. Tytor, Canada | G. Vallée, Canada | J. Van Hees, the Netherlands | P. Walty, Canada
D. Wimalaratne, Canada
Located at 67 Beechwood Avenue (2nd floor), in Vanier, the Centre d'artistes Voix Visuelle is open from 11 a.m. to 4 p.m., Tuesday to Saturday.
Le Centre d'artistes Voix Visuelle would like to thank the Ontario Arts Council, Canadian Heritage, the City of Ottawa, AGAVF, Caisse Desjardins Ontario and Marcil Lavallée for their support.